Kiltman by the Christmas tree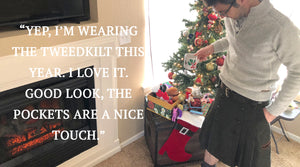 I wonder what's in that coffee mug. He's probably drinking some kind of egg nog, standing around saying Merry Christmases, often virtually. 
Maybe there's bourbon or scotch in there with the egg nog. "I wonder, does the Tweedkilt go well with whisky, or does whisky go well with Kiltman's new Tweedkilt? To the new and the old - a toast! - to the rare vintage, and being well-clothed. Enjoy a strong drink, but never let yourself lose your tasteful eye. Cheers!" *literally drink though if you're reading this at home*
---
---
Also in Kilt History, News & Updates
I've heard people say I'm gimmicky, that I'm all gimmick, flash, tone. And it's true, there is an element of that. But only because the kilts are already there, waiting to be discovered, worn, only because we invented the pockets and want to progress pockets, we want you to utilize them, adapt them, fill them.